「会社は誰のものか?」―――よく聞かれる質問です。


JLC, Japan Laser Corp. (日本レーザー)では、その答えは明白です。
それは社員のものであり、お客様のものでもあります。
2007年、電子顕微鏡の世界のトップメーカーである、JEOLからMEBO(Management Employees Buy-Out)で独立しました。
現在ほぼ60人の社員がおりますが、パート社員と派遣社員を除く、嘱託を含む全社員(50人)が株主です。
会社は、株主のものであると同時に、社員のものでもあります。
同時にこれまでの50年間、日本レーザーは輸入専門商社として、お客様に世界最先端の光技術と製品をお届けしてきました。そのお客様にとってもかけがいのない存在でもあり続けます。
よく顧客満足第一と言われます。
しかし、自らが所属する会社に満足することなく、また自らが提供する商品やサービスに満足できなくて、どうして、お客様に満足していただけるでしょうか?
私はこれまで社長として、現在は会長として、まず社員が満足できる企業を目指して経営しています。
それが結果的に、お客様のご満足につなげると信じているからです。
どうか当社の社員の成長に繋がるような厳しいご注文やご意見をお願い致します。
社員の成長が企業の成長であると確信しているからです。
株式会社日本レーザー 代表取締役会長
東京商工会議所 多様な人材活躍委員会 共同委員長
東京商工会議所 貿易部会 副部会長
人を大切にする経営学会 副会長
近藤 宣之
お知らせ
2023年7月14日付けで、東京商工会議所 貿易部会 副部会長に就任致しました。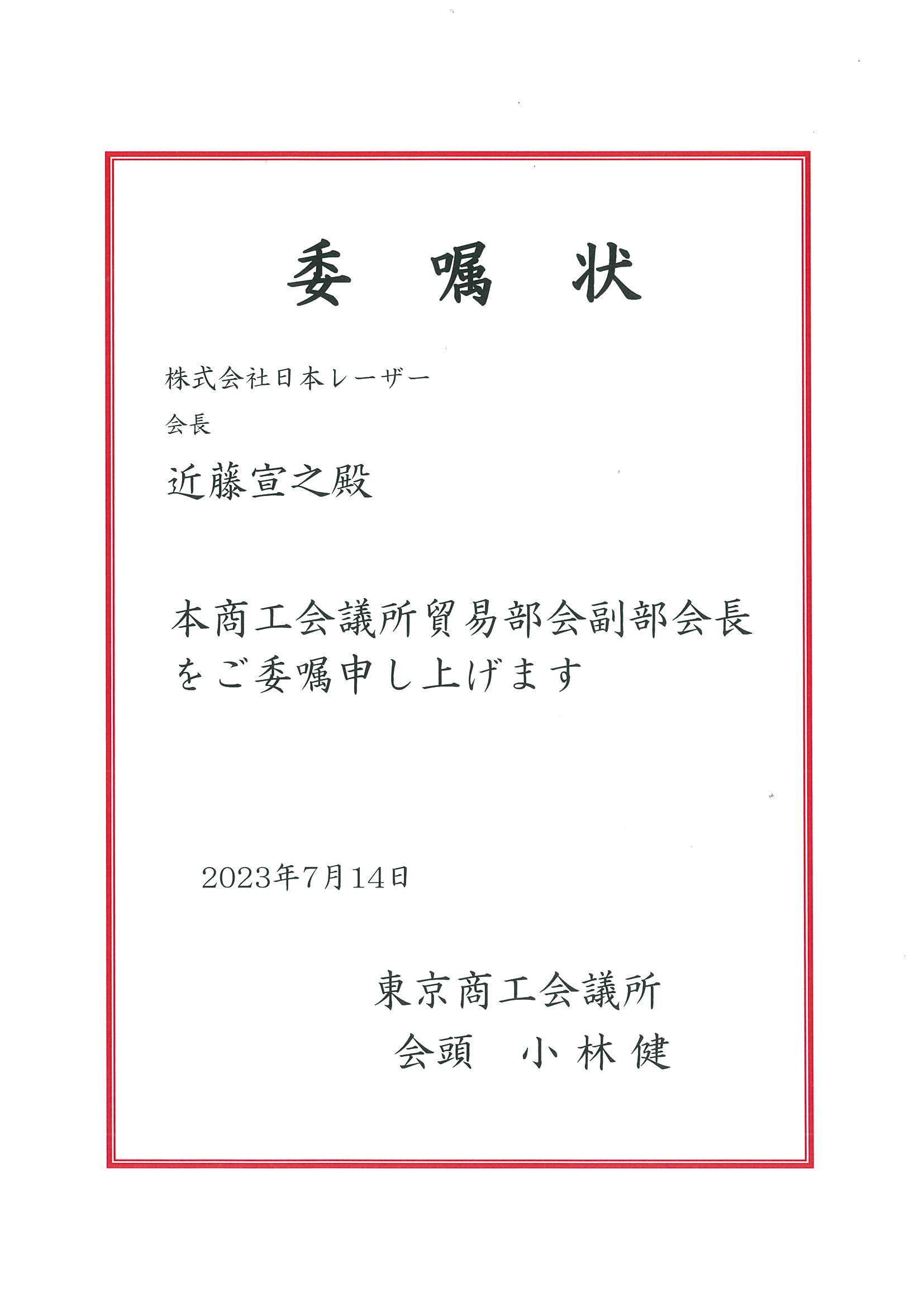 ※クリックすると拡大表示します。
著書等の紹介
「変化する企業社会とキャリア形成」、「成果主義の課題」、その他多数
(公益財団法人・富士社会教育センター)
| | |
| --- | --- |
| 2004年3月 | 「協議する力・参加する力」(公益財団法人富士社会教育センター刊、神津里季生連合会長との共著) |
| 2011年12月 | 坂本光司著「日本でいちばん大切にしたい会社」(3)(あさ出版)に30ページにわたって紹介。 |
| 2012年8月 | 「ビジネスマンの君に伝えたい40のこと」(あさ出版) |
| 2013年7月 | 西浦道明編著「社員にもお客様にも価値ある会社」(かんき出版)に50ページにわたって紹介。 |
| 2013年7月 | 経済産業省編「ダイバーシティ経営戦略」(経済産業調査会)に10ページにわたって紹介。 |
| 2013年11月 | 「トップが綴る わが人生の師」(PHP研究所 共著) |
| 2014年11月 | 「わが『志』を語る」 ~トップが綴る仕事の原点・未来の夢~(PHP研究所 共著) |
| 2015年11月 | 「トップが綴る人生感動の瞬間」~心が震えた出会い~(PHP研究所 共著) |
| 2016年1月 | 「お客様やパートナーとの共存共栄の実現」~グローバルに通用する進化した日本的経営~(近藤 宣之 述、小野瀬 拡 著、企業家ミュージアム発行) |
| 2016年11月 | 「トップが綴る 人生感動の瞬間」(PHP研究所 共著) |
| 2016年11月 | 小酒部さやか著「ずっと働ける会社」(共栄書房)に17ページにわたって紹介。 |
| 2016年11月 | 坂本光司著「利益を追わなくなると、なぜ会社は儲かるのか」(ビジネス社)に4ページにわたって紹介。 |
| 2017年3月 | 「ありえないレベルで人を大切にしたら23年連続黒字になった仕組み」(ダイヤモンド社) |
| 2017年4月 | 日本能率協会編「KAIKAする経営」(日本能率協会)に6ページにわたって紹介。 |
| 2017年5月 | 三冨正博著「見えない資産経営」(東方通信社)に11ページにわたって紹介。 |
| 2017年5月 | Masahiro Mitomi 著「Invisible Asset Management」(Value Create社)に12ページにわたって紹介。 |
| 2017年10月 | 太田肇著「ムダな仕事が多い会社」 (筑摩書房)に4ページにわたって紹介。 |
| 2017年11月 | 村上幸一著「ザ・ビジネスモデルイノベーション」(ダイヤモンド社)に10ページにわたって紹介。 |
| 2018年9月 | 『社員を「大切にする」から黒字になる。「甘い」から赤字になる』(あさ出版) |
Presidential Messages
(1) Our Management Philosophy
We facilitate the development of a great diversity of sciences and industries, creatively applying optical technologies through cultivation of mutually beneficial relationships with customers and partners.
(2) Our Corporate Missions
(3) Our Vision for the Future
(4) Our Strategy
(5) Our Management Policies
"S.O.F.T." is an acronym representing the essence of our management policies at JLC. SOFT stands for Speed & Simple, Open & Opportunity, Fair and Flexibility and Transparency & Teamwork. As a benchmark for our business practices and corporate decisions we constantly strive to adhere to these concepts for better management.
(6) Our Beliefs
(7) Our Corporate Culture Objectives
(8) Our Principles of Conduct
JLC is a company that utilizes its unique corporate missions, management philosophy, management policies and corporate culture objectives as building blocks to achieve success. To contribute most effectively to this success, it is essential that each and every employee adhere to the guidelines described below.
(9) A Company with the Most Motivated People in Japan
In order to become a premier company in Japan at the forefront of employee motivation, we will devote our utmost effort to this goal.
(10) President's Fundamental Guidelines for Management
I hope people at JLC understand my sense of value and philosophy for the management of the company. My role and intent is to lead the company, not to force everyone to rigidly adhere to my individual way of doing things. Therefore I always try to remember and hold to the following eight principles to conduct myself as president and to make decisions at JLC.
My management objective is not to make JLC a big company, but to help create a company in which all people enjoy their work and attain personal growth, satisfaction, and success.
(11) JLC's Way
There is no way to happiness.
Happiness is the way.
We live here and now.
We should not regret what we have done in the past.
We should not be anxious about what will happen in the future.
We should focus on the task at hand here and now.
Everything is up to us.
Take responsibility for every aspect of your life.
There are always ups and downs in life.
Last but not least, the shortest distance between two points in life is not a straight path.
These are my beliefs based on many experiences in my life.
Thank you for your interest in JLC.